Green Team

Annually, UPark's composting program keeps about 15,000 pounds of organic materials out of landfills.
University Park's Sustainability initiative is supported by the Denver Public Schools Sustainability Management Plan. The goal of the initiative is to reduce waste and use of energy through recycling, composting and reusing. The initiative is promoted school-wide as an everyday model of action. The initiative also receives support from Denver Recycles and Green Up Our Schools.
The primary areas of focus are "green" lunchroom practices and a Student Green Team that participates annual waste reduction projects.
Green Team Student Responsibilities
Daily Job

Empty room COMPOST containers daily in Green Compost bin in the lunchroom
2nd-5th grade empty RECYCLING into Purple Hallway Bin

Weekly "Trash Inspection"

Students empty the classroom trash can and count the number of pieces of Recyclables, Compost and Trash. Tally's are then reported back to adult volunteers.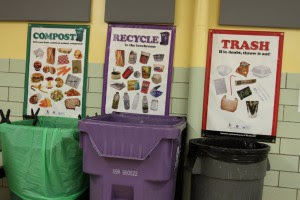 University Park Lunchroom Sustainability Expectations
Students are expected to be responsible for their own lunch clean up and to participate in our school's green initiative. This includes:
Cleaning table eating area and floor space
Raising hands to request permission to be dismissed from the lunch table
Carrying waste to the Waste Station
Sorting waste into the three waste cans:

Green COMPOST (food scraps, napkins, paper wrappers, paper bags, etc.)
Purple RECYCLING (milk cartons, cardboard, foil, cans, bottles, plastic containers, etc.)
Black TRASH (plastic wrappers, Styrofoam, straws, juice bags, straws, plastic spoon, etc.)

Place reusable (trays and cutlery) in the dishwasher window
Led by Volunteers
The UPark Green Team staff coordinator is Judy Cardenas and parent coordinator is OPEN but all staff, students and community members are welcome and encouraged to participate. If interested in learning more about the UPark Green Team or becoming a Green Team volunteer, and please email Judy Cardenas for more information.