What is MTSS?
In Colorado, a Multi-Tiered System of Supports (MTSS) is defined as: A prevention based framework of team-driven, data-based problem solving for improving the outcomes of every student through family, school, and community partnering and a layered continuum of evidence-based practices applied at the classroom, school, district, region, and state level.
Colorado Multi-Tiered Model of Instruction & Intervention
Intensive Level (1-5%): Interventions are provided to students with intensive/chronic academic and/or behavior needs based on ongoing progress monitoring and/or diagnostic assessment.
Targeted Level (5-15%): Interventions are provided to students identified as at-risk of academic and/or social challenges and/or students identified as underachieving who require specific supports to make sufficient progress in general education.
Universal Level (80-90%): ALL students receive research-based, high quality, general education that incorporates ongoing universal screening, progress monitoring, and prescriptive assessment to design instruction. Expectations are taught, reinforced, and monitored in all settings by all adults. Discipline and other data inform the design of interventions that are preventative and proactive.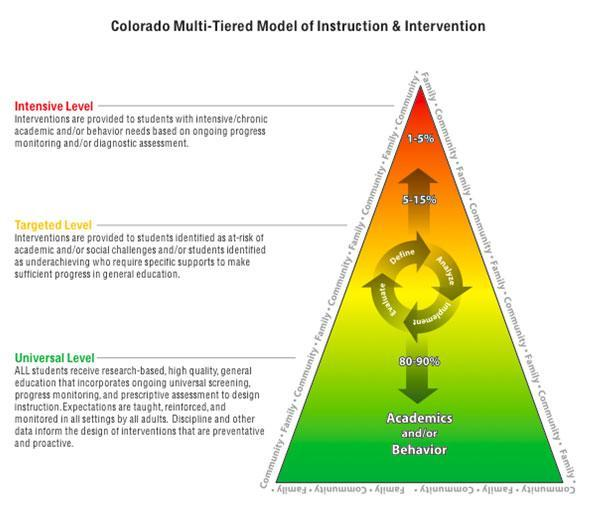 What is our MTSS process at University Park?
Step 1
A teacher has either an academic or behavior concern and begins working with their instructional coach to develop in class interventions to provide for the student. The teacher begins to collect data on areas of concern.
Step 2
If concerns continue the teacher and instructional coach will fill out an MTSS referral form for the student. Teachers will be asked to communicate with the student's parents that they are referring their child to the MTSS team.
Step 3
The MTSS team will then set up a meeting with the teacher and their coach to discuss concerns, create a plan and a goal that the team will track over the next six weeks.
Step 4
In six weeks the MTSS team reconvenes. How did the intervention go? Is there progress on the goals? Is the child still showing significant concerns? Team develops next steps. Next steps could include the following;

Discontinuing with the MTSS process- student has made progress and no longer needs Tier 2 interventions.

Completing another 6-week data cycle on either the same or new area of concern.

Recommending the student for a 504 plan (student receives a plan that provides specific accommodations inside the classroom to support their learning).

Recommendation for special education evaluations (student is significantly below grade level and is not making adequate academic/behavior gains to 'bridge the gap').
Teachers are expected to follow up and communicate regularly with the child' parents about any new data cycles or next steps that will be implemented. If next steps are recommendations/referrals for a 504 or special education plan then a specialist in that area will contact the families to discuss the next steps.
Who is our MTSS team at University Park?
Learn more information about the MTSS process.